Yesterday we celebrated Goodwin's Staff Appreciation Day: a time where we give thanks to our incredibly hardworking staff members. It was a wonderful day, made truly special by the many messages of thanks received via email, Facebook comments and stuck to our 'appreciation trees'.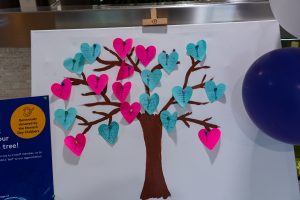 Goodwin Chief Executive Officer, Stephen Holmes, embarked on a mission to visit every site and staff member to share his personal thanks.
"There could be no Goodwin without you all, and we are beyond grateful to every single person within the organisation. The sum of all our parts makes us whole."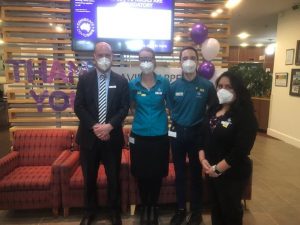 Staff were gifted a snack box and picnic blanket to thank them for their dedicated services to Goodwin. It was a meaningful way to show appreciation for staff, as well as highlight that every contribution, big or small, is valued at Goodwin.
The People & Culture department planned games and activities that brought staff together. Games involving the consumption of oreos and smarties were particularly popular. Goodwin House residents may have also noticed a small dog taking part in the fun, although Lexie the pug's contributions were held back by her lack of opposable thumbs.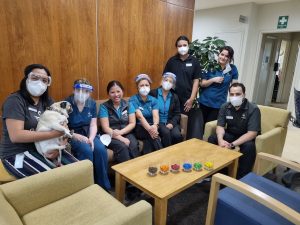 Staff were grateful to receive many kind messages throughout the day. We wish to share a few that were sent through via email:
"I thank all the Staff at Goodwin Monash. I have only been to the Day Club twice and I'm looking forward to next Wednesday. Maxine, Jo and Paul work tirelessly for us while we are there and also the chefs provide us with a delicious meal. I thank them and wish all of the staff a very happy Day."
"My wife has been a resident at Goodwin House in Ainslie for three years. I am constantly impressed with, and thankful for, the care and attention she receives from the teams, the team leaders, and the Registered Nurses. And the choices of dishes offered on the menu are of excellent quality. I am also thankful for the help and assistance from the concierge staff at the front desk. My thanks to all the staff at Goodwin House."
"I would really like to participate by adding my thanks of appreciation to all staff. I would like to add my thanks to all of the Goodwin personnel involved in all the areas in which we all benefit by the care and devotion to make our lives easier and more interesting, particularly in these trying times.  Your enthusiasm and care is so much appreciated – and you never tire.  Thank you for organising our trips and events – and all the driving! I also appreciate all the Café staff – they're pretty wonderful. Have a wonderful Staff Appreciation Day."
Thank you to our staff members who make Goodwin, Goodwin and the amazing residents and clients who are well-deserving of all our efforts.