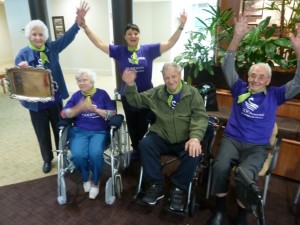 Ralph Cartwright Centre (RCC) has taken out the 2016 Goodwin Carpet Bowls competition, to become the first ever Monash winners of the title.
The competition was first contested across the Goodwin sites back in 1985 and ran until 1991. The competition was revived last year, with Ainslie taking the title and ending Farrer's 14-year grasp on the plate.
The Ainslie team, dressed in their resplendent canary yellow shirts, got off to a great start in the grand final, holding four shots after four bowls. It looked like Ainslie would run away with the grand final, before Winifred Fleming stole a late shot for RCC with a fantastic bowl to help them take a 1-0 lead heading into the second and final end.
The atmosphere was electric as the two teams lined up for end number two, and the players were obviously feeling the pressure as all the bowls were left well short of the target.
Then up stepped the RCC captain – 100 year-old Elvie Newell. The pressure was on and the plate was in their grasp as she rolled her bowl to within inches of the jack.
It looked like it was all over as Ainslie captain Jack Harman stepped up. He had the final chance to keep the grand final alive, and he delivered! With the last bowl of the grand final, Jack drilled one down the middle and stole the shot, meaning a 1-1 draw and a playoff for the first time in the history of the competition.
The weight of history rested on the shoulders of the two captains, who were to have one bowl each, closest to the jack to be awarded victory.
It was Elvie Newell, the oldest player in the competition, who delivered a wonderful final bowl to win the match for RCC.
"I am very happy to win for the team. A great achievement now that I'm 100," said Elvie upon receiving the plate.
"I was thrilled because I hadn't played very well and I decided I had to get the ball up there and win the game. It's been a nice day and it's wonderful to have everyone at the same place." said Elvie.
RCC coach Mara Stropper was thrilled with the result. "We trained really hard for this, it's exciting to come and compete all the way out at Ainslie and really exciting to win the competition," Mara added.