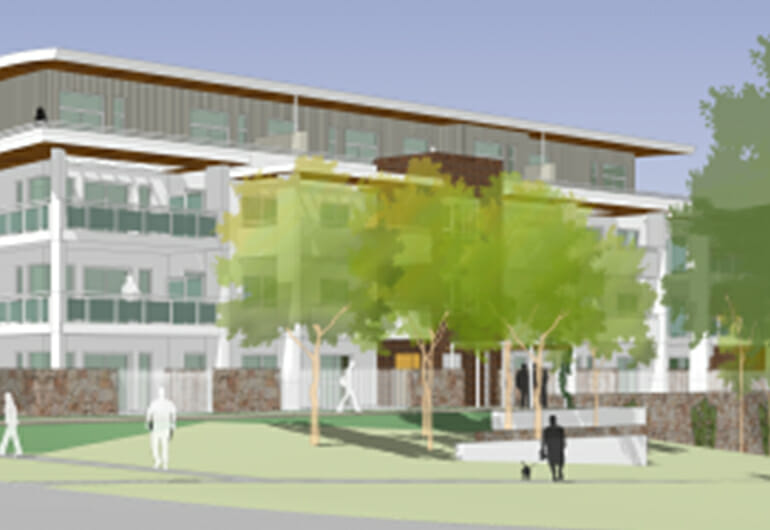 Goodwin Aged Care Services is proud to announce the proposed redevelopment of Goodwin Village Farrer.
"The new-look Goodwin Farrer will provide essential options for local seniors, improving care capabilities and addressing significant unmet need for seniors' accommodation into the future," said Goodwin Chief Executive Officer, Sue Levy.
"The impact of a growing seniors' population is an issue for today," said Ms Levy. "In the year ended 2010, the ACT experienced the highest national growth in over-85s at 8.7% – around 30,600 people."
"Expecting that trend to continue, the ACT needs to develop in older suburbs as well as greenfield sites, so seniors are not forced to leave their beloved community as their needs change with age."
Goodwin Farrer will become an innovative, contemporary village informed by Goodwin's 60 years of experience. Its mid-rise style can be likened to Goodwin's highly regarded Ainslie village, which won more than 20 awards. It also takes design elements from the Goodwin Monash redevelopment which won ACT Development of the Year and Best Retirement Living Development 2015, from the Property Council of Australia.
The new-look Goodwin Farrer is designed for quality of life, and an "enabling environment", focused on wellbeing with linkages to the natural environment, a dedicated dementia support wing and "high care oasis" model. The Lifestyle Clubhouse will be a hub for services with a public cafe, hairdresser, wellness services and allied health, and visitor playgrounds.
"Opened in 1977, Goodwin Farrer has long established relationships with the local community which will only deepen with greater facilities," said Ms Levy. Current community outreach includes intergenerational activities with local schools, regular visits by Delta Dogs pet therapy, volunteer support through the Red Cross, art programs, and the Salvation Army giving tree.
The five-year construction program will begin in 2016.