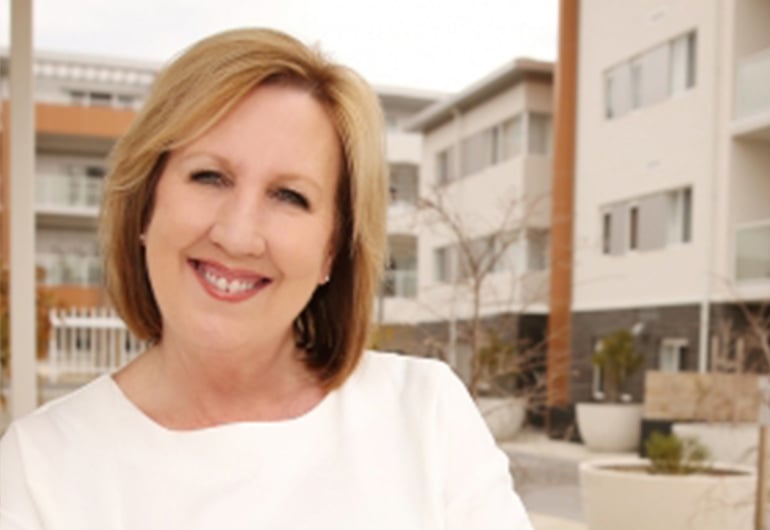 Successfully leading not-for-profit Goodwin Aged Care through massive market change and industry reform has contributed to Sue Levy's nomination as a finalist for this year's ACT Telstra Business Women's Awards.
Ms Levy joins top public servants, leading educators and entrepreneurs as one of 19 finalists. She is one of three finalists in the Corporate and Private category.
'This is a well deserved nomination,' said Chair of the Goodwin Board, Liesel Wett.
'Sue has combined her genuine empathy for people with her outstanding business acumen to take this organisation on a journey to expand care services to older people across the ACT and into the surrounding region.'
'Sue's leadership has helped build communities where older people are respected, valued and supported to remain actively involved and make positive contributions,' Ms Wett said.
Serving around 2000 clients across the community and within three residential care facilities and four independent living villages, Sue heads the largest aged care, not-for-profit provider and employer in the greater Canberra region.
'Steering an organisation through a period of change is a challenge; Sue has successfully done so while continuing to remain adaptable, innovate, and maintain her commitment to shifting the fundamental focus of this industry toward person-centred care.
'Since joining Goodwin in 2008, Sue has been at the forefront of initiatives to change the way older Canberrans live and has promoted active, independent ageing,' said Ms Wett.
In 2015 Goodwin Village Monash was awarded Best Retirement Living Development of the Year, and ACT Development of the Year at national and local Property Council of Australia awards.
'I'd like to sincerely thank Telstra for supporting women in business through these awards; and the Goodwin Board, Executive team and our staff for their encouragement,' said Ms Levy.
'I am thrilled to be included in this list of impressive business leaders, visionaries, and entrepreneurs.'
Winners of the 2015 ACT Business Women's Awards will be announced on Friday 23 October in Canberra. The ACT winners proceed to the national finals in Melbourne on 18 November.