The giving tree at Goodwin village Farrer is now up and collecting donations to help make Christmas a brighter time for local families who may be struggling.
Our Farrer village Christmas giving tree collects gifts for children and food for families each year, for the Salvation Army.
The giving tree was initiated by the Farrer independent living residents' committee 10 years ago, and has delivered every year since. Each year, when they come to collect the donations, the "Salvos" treat Goodwin residents to a Christmas carol performance, which we're all looking forward to (this year, on December 10).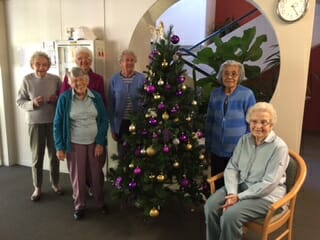 Pictured: (back) Anne Gunn, Joan Callaghan, Aileen Sturgess, (front) Marie Sharpe, Amparo Magaog, Mavis Furnell.