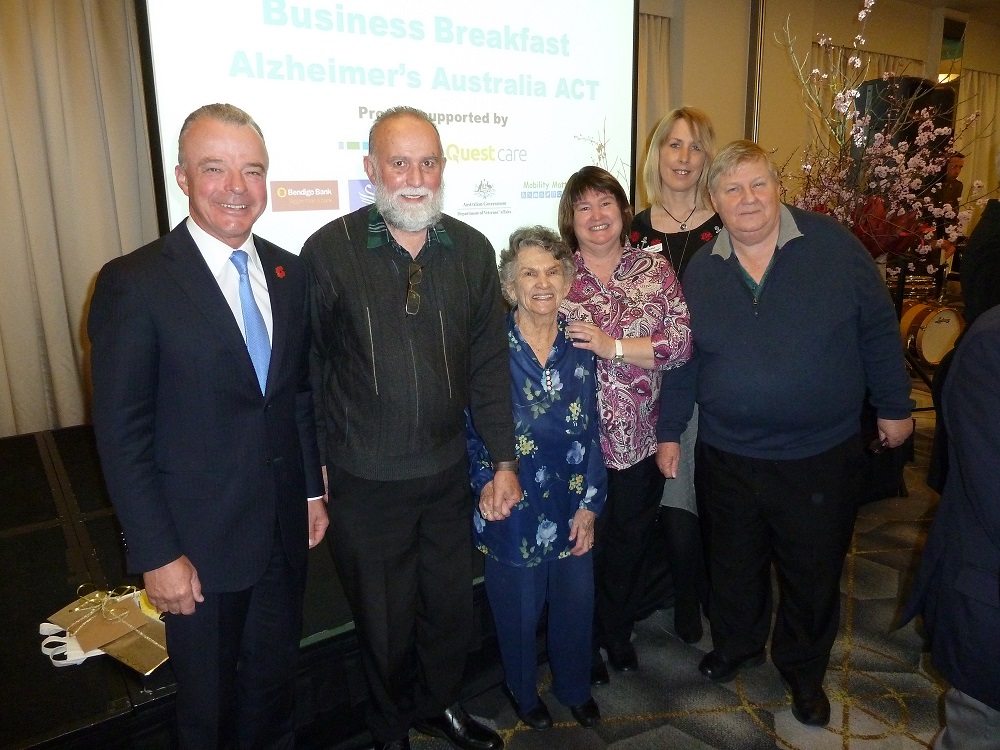 Dr Nelson with Thomas 'Snowy' Paskin's family
From left to right: Dr Brendan Nelson AO, Frank Paskin, DHH resident Christina Paskin, Gail Hindmarsh, Charise Buckley (DBMAS nurse)  and Malcolm Hindmarsh.
Dementia Awareness month was officially launched this morning as Alzheimer's Australia ACT hosted their Business Breakfast at the QT Canberra.
Goodwin was a proud sponsor of the event, attended by over 450 people, which was a fundraiser for Alzheimer's Australia ACT as well as being an important event to raise awareness for dementia.
"People with dementia want to be treated with respect," said CEO of Alzheimer's Australia ACT Jan Chorley.
"This means that everyone has a role to play to embrace the 4300 people living with dementia in our community, knowing that this number will increase."
The Keynote Speaker for the event was Dr Brendan Nelson AO, Director of the Australian War Memorial. Dr Nelson spoke about the correlation between mental health and returned service men and women. He also captured some remarkable stories of Australia Veterans, who after experiencing the pain and suffering of war, have gone on to face the reality of a dementia diagnosis.
"354,000 Australians live with some form of dementia and it will be twice as many by 2030," said Dr Nelson.
"The Department of Veteran's Affairs has done a remarkable job at seeking to understand what the relationship is between traumatic brain injury in our veterans and post traumatic stress disorder and the development of dementia."
Dr Nelson also paid tribute to David Harper House, Monash resident Christina Paskin, who's late husband Thomas 'Snowy' Paskin spent time living at Ralph Cartwright Centre in Monash, as well as the family of John Rutledge, who lives at Goodwin House, Ainslie.
"'Snowy' Paskin served in the second world war, on little ships called corvettes. About sixty of them were built in Australia. And in the Royal Australian Navy, he worked through the Southwest Pacific and the Pacific Islands – he was just 18. Just 18," said Dr Nelson.
"John Rutledge, again was only 18 when he went into the Royal Navy. He was at Omaha beach, the D-Day landing and then in the British Pacific Fleet on one of its aircraft carriers enduring kamikaze attacks. He lives the rest of his life living with those experiences."
The morning was extremely moving and Dr Nelson was very generous with his time, posing for a photo with Christina Paskin and her family.
Goodwin would like to congratulate Alzheimer's Australia ACT for organising a memorable event.
If you would like to talk to someone about dementia, you can call Goodwin on 6175 5100 or the Alzheimer's Australia National Dementia Helpline on 1800 100 500.